Cebu's History
Cebu and Mactan are rich in historical significance. From around 800 AD Cebu harbor was already an important trading port for Chinese, Islamic, and Malayan goods. In 1521, Ferdinand Magellan discovered the Philippines and eventually found his way to Mactan. Due to a dispute of uncertain nature, the Spaniards incurred the ire of local chieftain Lapu-lapu, who killed Magellan in The Battle of Mactan – arguably the first case of an Asian fighting European invaders. Thus, although the Magellan Expedition is credited with the first circumnavigation of the globe, Magellan the man died and remained in Mactan.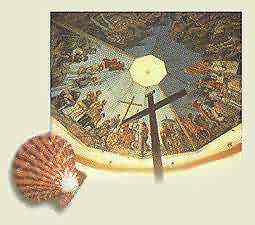 (It is said in some chronicles that Magellan's expedition included a Cebuano-speaking crewman, who must have earlier wandered across Asia, the Near East, and the Mediterranean before joining the expedition in Spain. When the expedition reached Cebu, this crewman – a Cebuano – became the first person to actually complete a tour of the world.)
During the early part of the Spanish era, Cebu was the effective capital of the country, which in turn was a province of Mexico. (The capital was later moved to Manila, which was more easily defensible against sea attack.) It continued to prosper as a trading port. And to this day, Cebu is the most ethnically diverse area in the country, with large Chinese, Spanish, and Malayan populations (not to mention more recent German and Americanarrivals).
Cebu today is regarded as the most dynamic metro area in the country, with growth rates generally twice as high as the national average. It is home to a surprising range of industries, including semiconductors, shipping, education, watch making, food-processing, high-end furniture, and of course tourism. (A bit of trivia: Almost all the Timex watches sold anywhere in the world are made in Cebu.)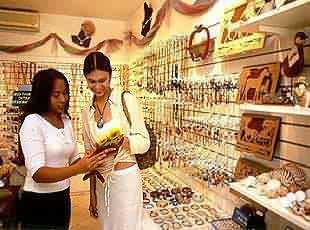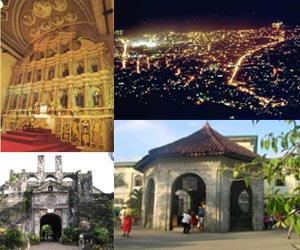 Things to do in Cebu
Boat cruises and picnics to neighboring reefs and sandbars (half to full-day)
Shopping for handicrafts and native foods in old Cebu.
Visits to early Christian churches and the well-preserved colonial town of Carcar (full day).
Excursion to Moalboal, a world-famous diving destination (full day).
Day-trips by modern jet-craft to Negros, Bohol or Leyte, larger nearby islands with scenic sights and charming architecture.
Modern shopping malls – Cebu has four (SM City, SM Seaside, Ayala Mall, Robinson's Galleria)
Guided tour of Cebu City, including:

Fort San Pedro (a fine example an early Spanish fortress),
the Magellan Cross (shrine of the first Christian cross in Asia),
the Basilica de Santo Niño (built to commemorate the miraculous rediscovery of a Christ-child statue in early Spanish days),
Tops (a mountaintop lookout point),
the Taoist Temple for a glimpse of Cebu's Chinese cultural legacy,
Gorordo House (a restored turn-of-the-century archbishop's villa),
CAP Center (with mementos of
WWII era President Osmeña),
and Carbon public market.
Truly Blessed by Nature
Question:
How many of these are serious dangers at Plantation Bay? Tsunamis, Typhoons, Earthquakes, Volcanoes, Sharks, Crocodiles, Venomous Snakes, Malaria, Typhoid.
Answer:
None of the above. Plantation Bay's location on Mactan Island is truly blessed, and there is probably no other resort area anywhere else in the world that is so well-insulated against assorted natural perils.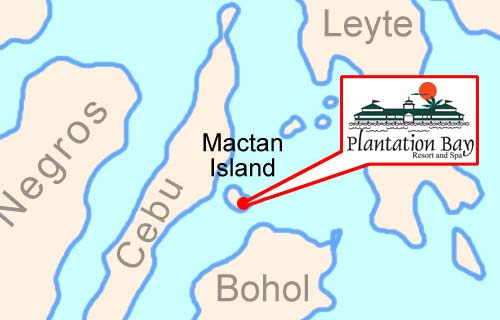 Cebu is located in the heart of the Philippines, totally surrounded by much larger islands. This means that most typhoons never reach Cebu, and the rare storms that do are already much-weakened. The danger from tsunamis is effectively zero; there is no known seismic fault in this area, and any long-range tsunami would be blocked by other islands.
The Pacific monsoon drops most of its moisture on other islands prior to reaching Cebu. Thus, there is no pronounced rainy season and the weather here is clement year-round. Although it can rain at any time of year, most rains are brief and quickly followed by brilliant sunshine. (Before being tempted by the "low season" rates offered elsewhere, better ask why there's a low season. Cebu doesn't have one.)
The entire island of Cebu is an ancient coral outcropping (not of volcanic origin like Hawaii, or near a continental shelf like Bali or Phuket). There are no volcanoes, and the area does not experience any appreciable earthquake activity.
Plantation Bay faces Hilutungan Channel, which is 300 meters deep and has a steady current. This not only makes the waters here exceptionally clean (and the scuba-diving awesome), but also free of dangerous sharks and barracuda, which like to scavenge in still, shallow waters.
Mactan being a classic desert island, there are no swamps or wetlands here which could harbor crocodiles or venomous snakes. The island is virtually flat and not very large, so floods and mudslides are geologically improbable.
Although Plantation Bay feels like a world of its own, it is only 20 minutes from a major metropolitan area. Only 10 minutes from a mid-size hospital that can handle most emergencies, and 30 minutes from several full-service General Hospitals. So, unlike most resorts in Indonesia, Thailand, Vietnam, India, and Sri Lanka, Cebu has no significant incidence of tropical diseases such as malaria or typhoid. In case of a burst appendix or abcessed tooth, you wouldn't have to wait for a helicopter airlift.
Environment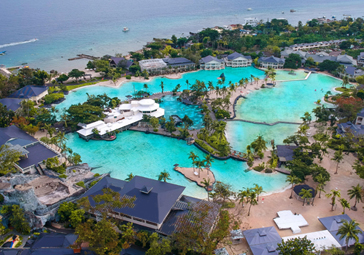 Plantation Bay was built and is operated with appropriate regard for environmental concerns.
Our lovely artificial lagoon was built over a site consisting of barren rock, so no ecosystem was destroyed for the resort. To create fabulous white-sand beaches bordering the lagoon, mountain stone was quarried and crushed into fine grains. (A bonus is that, unlike real beach sand, ours is always cool to the touch, even under direct sun.) Thus, no natural beaches or sandbars were despoiled. The fine woods used in some furniture were recycled from old houses or church timbers. The wood ceilin
gs seen in the lobby and many bedrooms and meeting rooms are actually made of ordinary plywood, painstakingly hand-stained to simulate the look of mahogany panels.
Extensive use was made of coconut timber, a widely-available renewable resource. Other coconut parts of little commercial value were used in decorations and finishes around the resort. The use of plastics was avoided wherever possible, a feature which also lessens fire and smoke hazards.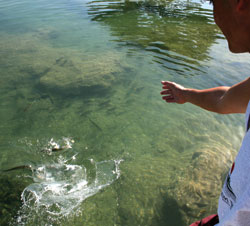 Sanitation
The resort employs septic tanks for residential sewage, spread out over a large area to avoid a concentration of effluent. The laundry is equipped with a biomechanical waste treatment plant. No wastes are dumped into the sea. The resort's garbage is trucked to landfills in Mactan; some garbage is recycled as fish-feed. Bottles and cans are separated and sold to recyclers.
Marine life
Plantation Bay grows some of its own fish (for restaurant use) in fishponds within the hotel. In partnership with universities and public agencies, Plantation Bay cooperates in all efforts to protect marine life and promote the stability of coral reefs. Since the resort opened in 1996, there has been a dramatic re-growth of the coral reefs in our part of Mactan Island.
A resort with a social conscience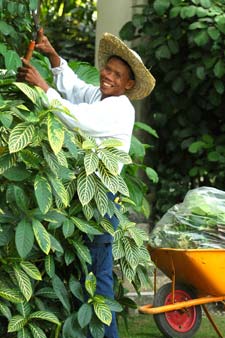 Plantation Bay provides free school bus service in the community, making it possible for hundreds of local children (who could not afford public transportation) to obtain a basic education. On a continuing basis, we support a number of local residents for vocational training. In 2004 Plantation Bay paid for the reforestation of about 120 hectares in Cebu's highlands, and regularly conducts beach clean-ups to increase environmental awareness. Plantation Bay provided most of the funding to build and operate a day-care center for indigent families in South Cebu City, and an orphanage for street children in Manila. Yearly, since 2008, the resort provides free medical services to a total of over 1,000 local residents.
The employees of Plantation Bay enjoy good salaries and benefits. Equally important, all staff members are treated with dignity and respect as part of the Plantation Bay Family. Training and career-advancement opportunities are provided to all staff members. A flattened and informal hierarchy system improves work performance and efficiency while providing a personal sense of satisfaction to every staff member. For these reasons, Plantation Bay is considered one of the best workplaces in the country. Guests quickly notice and appreciate our staff's excellent morale and eagerness to please.