DAYTRIPPER ADVENTURE PACKAGE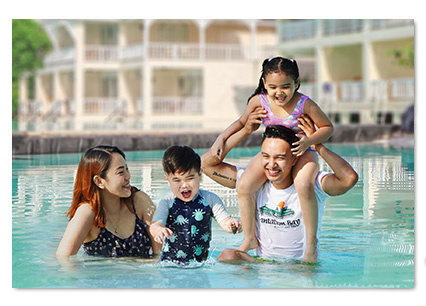 Some unscrupulous resorts in Mactan charge P 3000 or even more, for a vastly inferior day-visit experience that will leave you feeling cheated. Plantation Bay offers tremendous value for money, and a satisfying full day of adventure (lunch included) for a fair price:

P 2,000 nett per person (Monday to Friday)
P 2,500 nett per person (Saturday & Sunday)
Special price of only P1,800 nett per person for groups of 20 or more (reservations essential).
50% off for children 0 to 12 years old.
Inclusions:
* Lunch and choice of drink
* Lagoons and swimming pools
* Wall climbing at selected hours
* 30-minute use of bicycles
* 15-minute use of non-motorized aqua sports facilities (Stand-up Paddle Board or Kayak)
* Shower and changing facilities
Plantation Bay has strict rules on noise, attire, and personal comportment. Guests must obey legitimate instructions of all hotel staff. Refusal to comply may lead to prosecution, or eviction without refund.