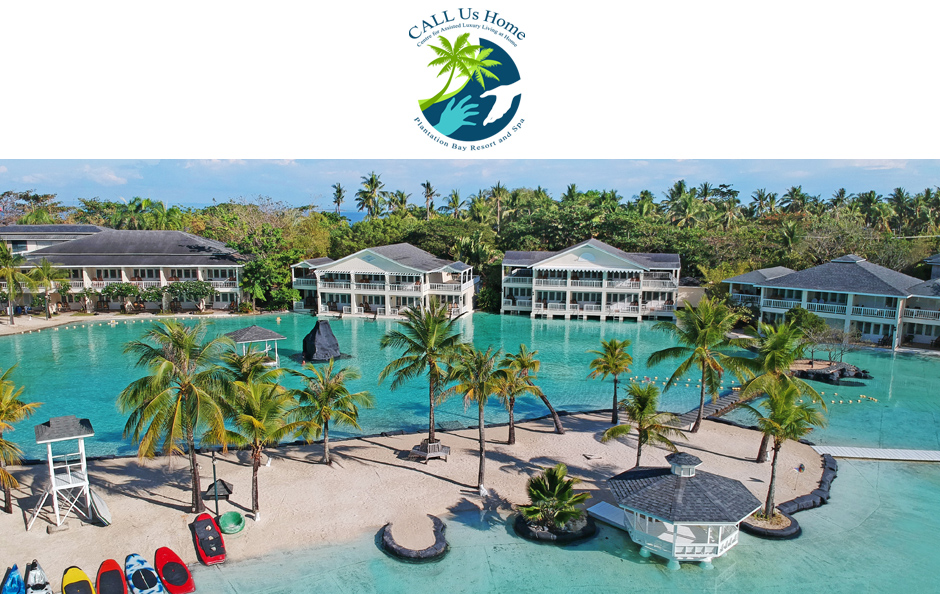 CALL Us Home !
Five-Star Long-Term Hotel Residence at Plantation Bay
Combining the Best of a Resort Lifestyle and Assisted Luxury Living Services
Live HIGH. . .
For less than the Cost of Living AVERAGE.
Living in a condo or house, you have so many things to arrange for and worry about. Pipes leak, servants leave, plants need pruning, a dozen bills need to be paid.
LIBERATE YOURSELF.
MacArthur. FDR. Garbo. Hughes. Churchill. Marilyn. Travolta. Keanu. de Niro. Kubrick. Chanel. Jim Morrison. Hemingway. Beckham. Dali. Joplin. Spielberg. All of them at some point lived long-term in a luxury hotel. And lots of ordinary people, too.
In the specific case of Plantation Bay, why should you live here?
Simplicity. One bill. Leave the worries and details to someone else.
The equivalent of dozens of personal servants. Nurse, butler, gardener, maid, chauffeur, concierge doctor, masseur, companion, secretary, errand runner. All are available 7/7 and just a phone call away.


Your own private estate. 8 has. (20 acres). 4 swimming pools. 4 saltwater lagoons. Tennis courts. Climbing walls. Archery. Lending library. Award-winning chefs. Private spa therapists. Scuba and marine sports facilities. Richard Branson pays millions a year for his private Bahamas island. Living at Plantation Bay is almost as good, for a lot less money (but sorry, no helicopter, and our yacht is a banca.)
Four outstanding restaurants and a range of other cuisines – high-end Mediterranean and steaks, Asian and Seafood, International and Filipino, and Comfort Food-American Diner style. Fast-food deliveries from Jollibee, McDonald's, KFC. When George Clooney goes to his villa in Lake Como, does he enjoy so many food choices?
Plus, all the benefits of Assisted Living, delivered with Five-Star flair, courtesy, and efficiency.
FIFTEEN DAYS MONEY-BACK GUARANTEE! SEE BELOW.
What is Assisted Living?
For persons who are in average health, not bed-ridden, but want help with daily tasks, and want to simplify their lives.
Private living quarters.
Simplicity and Convenience: Extensive regular services on site like meals, housekeeping, laundry, mail and package, repair, transportation, and basic clinic (BP, blood sugar, OTC medicines, etc.). A well-run assisted-living establishment can replace your cook, housecleaner, laundress, driver, gardener, and save the hassle of most kinds of simple errand, while also eliminating the stress of dealing with many different parties. All of these are either included in the basic rental cost, or provided at a fair pre-advised cost.
Additional services by arrangement, such as private nurse or group/private therapist.
Around-the-clock availability of emergency help in case of accident or illness.
What Is Five-Star Shelter in Place?
You've probably read that in recent months the uber-rich sheltered in place at private estates and luxury resorts, avoiding the pain and boredom of being locked down in a city apartment.
Many health experts are predicting there will be a worse second wave, possibly many waves, of the pandemic over several years. There are even doubts about gaining immunity after catching Covid-19.
Did you get stuck in a lockdown? Are you looking forward to a repeat performance? Why not plan ahead and book your pandemic Shelter in Place at Plantation Bay. Some fancy resorts will be charging over US$ 500 a day to well-to-do pandemic refugees. Others will charge US$ 200 a day for inferior rooms with few amenities. Plantation Bay will charge much less than that, while giving you a genuine luxury experience. Keep reading.
Peace and Quiet with Five Star Amenities.
(And Social Distancing without Pain!)
What Are the Unique Benefits of Plantation Bay's CALL Us Home?
Ideal for Filipino-Americans, Filipino-Europeans, and other nationalities planning to retire to the Philippines or spend part of every year in the country. A stress-free and one-stop solution for year-round or seasonal residence, or as a temporary base while evaluating where in the country you want to settle.
One of the safest places on earth in the time of Covid-19. Click here
Strong financial condition. Zero bank debt. Zero institutional debt (bonds, notes, factoring, repurchase agreements – all Zero). We can deliver what we promise, and will not be under pressure to cut corners or skimp on quality (not like many poorly-capitalized "homes"). (Audited 2019 Financials available soon, after lifting of lockdown.)
Staffed by courteous, well-trained Five Star Hotel professionals (not barely-trained, poorly-motivated casuals). Click here



Luxurious, spacious Five Star Hotel rooms, tastefully decorated, with large private bathrooms (not bare, depressing cubicles with shared toilets). Click here



Four international-class restaurants so you'll always enjoy delicious cuisine (not unappetizing hospital meals on trays). Click here



Fantastic and relaxing plantation ambience with extensive private lagoons, mature shade trees, and sandy beach areas. Direct access to the sea and a range of marine leisure activities. (Not a closed space without views.) Click here



Sundries shop and convenience store in-house (not a cabinet with a few toiletries). Click here



Only 15 minutes' drive to two full-service hospitals. In-house dental service. (Not a remote location far from emergency services.) Click here



Extensive, level grounds perfect for strolling, biking, or wheelchair (not a shabby garden overgrown with weeds). Click here



Mactan-Cebu International Airport is just 30 minutes away, making it easy for loved ones to visit (not like hard-to-access sites deep in the provinces and far from airports). Click here



Japanese-Themed Spa with expert therapists (not amateur masseurs in cage-sized cells). Click here



Attached to a spectacular destination resort so that your loved ones can visit for several days at a time, and the children will want to keep coming back. (Not a location so boring they'll look for excuses not to come.) Click here



A variety of daily activities, morning and afternoon, so you'll never be bored. (Not endless days in front of a community TV set.) Click here



Extensive precautions against communicable diseases. You'll be safer at CALL Us Home than almost anywhere else on earth. Click here
FIFTEEN DAYS NO-PENALTY MONEY-BACK GUARANTEE!
First you must make the payments and deposits described below. But if after two weeks of residence you decide you don't want to continue, you can cancel your tenancy and get the balance of your money back, paying only for half a month's rent and incidental charges.
Transparent Costs and Prices
After Senior Discount, the rent is P 150,000 per month per typical hotel poolside room, modified for long-stay convenience, inclusive of VAT and a 10% service charge. Compare with other properties charging P 100,000 for tiny rooms and minimal service. The service charge is to ensure that staff are motivated to serve you properly.
The above price is for single or double occupancy.
This monthly charge entitles you to a 46-square meter studio bedroom (36 sqm interior, 10 sqm balcony) with a swimming pool or beach view. Inclusions: Cable TV, internet, AC, twice-weekly linen change and room cleaning, once-weekly laundry, supply of purified water. Does NOT include food and drink, massage, and other additional services. Each contract is for 3, 6, 9, or 12 months. You choose the term; a shorter period is suitable for those who plan to split their time during the year; a longer period saves hassle and re-documentation. Upon signing the contract, you will be asked for 3 months' rent in advance, and 1 month security deposit. Advice of renewal may be made at any time up to 15 days before your contract expires; prices may change.
Add P 25,000 a month for premium rooms closer to restaurants and with a ground floor lagoon view.
Pay only 50% of the menu price at restaurants and Spa, billed at the end of each month to a credit card pre-registered with us. With the discount, most meals will come to less than P 200-250. Some exclusions apply.
Complimentary access to a hotel-supervised kitchen so you can also cook for yourself occasionally. We will even clean up after you! Subject to scheduling and other limitations.
Fast-food delivery permitted, at your own expense.
In-house convenience store.
Grocery purchase service, delivered to your room. P 250 for up to 30 normal-size items (e.g., can of Spam, liter of Coke, box of tissue).
Prescription medicine purchase service. Provide the prescription or PDF of it. P 250 purchase fee, one pharmacy; if second pharmacy required, another P 100.
50% discount on rooms and meals for your visitors, limited to 3 room-nights a month, with standard occupancy limits. Not applicable to Peak dates. Some exclusions apply.
Other services according to a published fee schedule: nurse or therapist service by the hour; transportation by the trip or by the hour; doctor consultation inside the resort; secretarial and business services.
All above price indications are accurate as of present date, but are subject to change in the future.
Limited Offer – You Must Act Now!
Our business reason for CALL Us Home is to have a "base load" of residents that will ensure we can keep our staff. These prices would never be offered in normal times.
Only 100 lucky residents will be accepted. You must be of good character, with courteous and quiet habits, and likely to make a positive contribution to the social life of the resort.
If you're not familiar with Plantation Bay, write Milai, Front Office Manager, to schedule a visit: fom@plantationbay.com.
Once you've decided, print out this two-page application form, then fill up the form with a blue ballpen. Provide an ID type photo or anything reasonably clear. Use a cellphone app like Scanbot to take a picture of the completed form and convert the two pages into a PDF. (If you're not sure what this means, ask a relative for help.) Click here for a printable application form.
Send the PDF by email to: Colleen, hrd@plantationbay.com. You will receive an acknowledgment within 24 hours (excluding weekends), and a decision on your application within 72 hours after the acknowledgment.
Come join us! CALL Us Home !