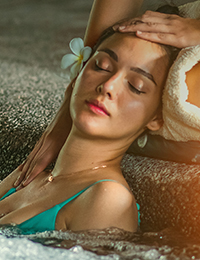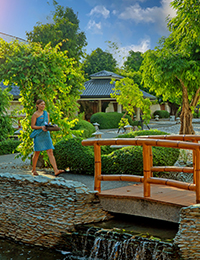 FACIAL TREATMENTS by Algotherm
A pioneer in marine cosmetics
*Some treatments/massages/services are currently not available until international tourism fully normalizes.
*All prices are in Philippine Peso inclusive of VAT.
Turn back time with the world's smallest wrinkle iron. Diminishes lines in 15 minutes as it rejuvenates skin. 6 sessions recommended for better results.   2,200
EYE CONTOUR TREATMENT (45mins)
A complete treatment for the eye contour area to refresh, decongest, and bring a youthful appearance to tired eyes.  2,200
Formulated to make you look as young as you feel. Helps reduce fine lines and wrinkles. Combined with a relaxing neck, shoulder, arm, and hand massage to wipe away all your stress.  4,800
BODY TREATMENTS by Algotherm
*All prices are in Philippine Peso inclusive of VAT.
Exfoliates and removes dead skin cells to reveal a new you. Choose from any of the following:   3,500
Fruit Delicious
Salt Glow Temptation
Marine Scrub
COOLING CUCUMBER WRAP (1hr)
Refresh and re-hydrate your skin and face with our all-natural cucumber concoction. Make it the highlight of a long, hard day under the sun. Ideal for sun burnt skin.   3,800
RE-MINERALIZING BODY WRAP (1hr)
A concentration of fresh seaweeds for toning and slimming. This stimulates metabolism making skin supple, toned and re-mineralized.  4,000
FLORAL or HERBAL BATH (45mins)
Spoil your senses with our aromatherapy oils. The blend of aromas and floral or herbal bath promotes relaxation of body and mind.  2,200
MASSAGE THERAPIES
Open daily from 10AM to 10PM. For added privacy, we can arrange massage treatments inside your room.
*All prices are in Philippine Peso inclusive of VAT.
Stimulates your head, shoulders, arms, and hands to complete your water relaxation therapy.  800
Stressed-out, suffering from recurring insomnia?
Acupressure can relax nerves and promote more restful sleep.  800
STRESS RELIEVING CHAIR MASSAGE (30mins)
Just settle down in our massage chair and we will do the rest.  1,400
Choose from Japanese Shiatsu (energizing), Swedish (relaxing), or a combination, and Fusion (rejuvenating). Includes Aromatherapy oils.  3,400
FOOT AND CALF MASSAGE (30mins)
Relieve tired, aching feet and legs with this soothing massage.  800
Pure pleasure for your feet-soothing, relaxing, caressing. It will make you feel pampered and peaceful.  2,500
To be honest, this massage is intended to be painful. It stimulates nerve endings on your feet to promote overall wellness. Try it and see whether it works for you.  2,500
Plantation Bay's Signature Massage
An original creation involving stretching, squeezing, straightening, and other motions applied to skin and muscles. Warning: it might spoil you for any other massage.  2,800
MASSAGE FOR PREGNANT WOMEN (1hr)
Strictly done only on your second trimester of pregnancy.  3,000
HOT STONE MASSAGE (1hr 30mins)
Uses heated volcanic stones to melt away tension, ease tight muscles, promote better circulation, and enhance your sleep.  4,500
HILOT MASSAGE (1hr 30mins)
Traditional Filipino Massage
Long, slow strokes and gentle stretching where you most need it. Complemented with herbal compress made from organically grown herbs.  4,500
SPECIAL SPA PACKAGES
*All prices are in Philippine Peso inclusive of VAT.
RELAXATION INDULGENCE (2hrs)
Pool Massage, Body Scrub, Full Body Massage.   5,900
Pool Massage, Body Wrap, Full Body Massage.  6,000
AROMATIC TRANQUILITY (2hrs)
Pool Massage, Body Scrub, Aromatherapy Oil Massage.  6,200
Full Body Massage and Facial Treatment of your choice.  6,800
DOUBLE-TREAT HAPPINESS (3hrs)
Pool Massage, Body Scrub and a two-hour Aromatherapy Oil Massage.  9,000
Foot Therapy, Full Body Massage, Facial Treatment of your choice, Nail Care.   10,500
ULTIMATE MOGAMBO SPRINGS EXPERIENCE (6hrs 30mins)
The Complete Spa Pampering Treat – Pool Massage, Body Scrub, Foot Therapy, Facial Treatment of your choice, Aromatherapy Oil Massage, Hand and Foot Paraffin Wax with Nail Care in our Private Treatment Room.  15,000
All cellphones and electronic devices are strictly not allowed in the Spa. These must be deposited at the reception area. Lockers will be provided for other personal belongings.
Please be at Mogambo Springs at least thirty (30) minutes before your scheduled appointment to enjoy the use of spa facilities to the fullest.

Late arrival will result in reduced treatment time to accommodate the next scheduled guest.

Proper swimwear must be worn in all communal areas of the Spa. For Body Scrub, Wrap and Massage Treatments, appropriate apparel will be provided.
The spa may deny entry to any child or any adult, for any reason. In principle, children regardless of comportment are not encouraged at the Spa. Rowdy, noisy or arrogant adults will be turned away or asked to leave without refund.
Mogambo Springs is a place for relaxation. For everyone to experience the tranquil environment, please keep your voice low.
Please advise us if you are pregnant, suffering from heart or respiratory disorder, blood pressure abnormality, diabetes, excess fluid retention, or skin disorder that may be aggravated by heat and humidity.
Never visit the spa if under the influence of alcohol or if you have just had a heavy meal.
STRICTLY NO SMOKING, NO EATING.
Cancellation Policy:

Mogambo Springs is often very busy. For confirmed appointments, please give four (4) hours notice for cancellation or changes, or the full price of services booked will be charged.
SVAGO CHAIR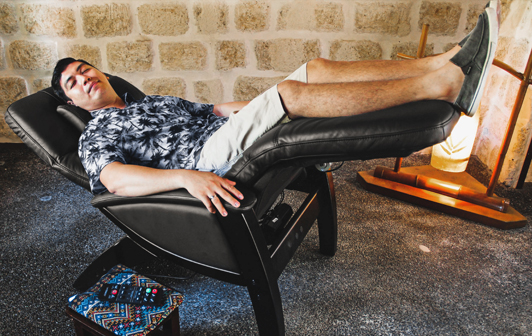 Zero Gravity chair is a NASA-inspired technology that helps improve blood circulation; decompresses your spine, and decreases lower back pain. This works by reclining your body into this position by evenly distributing your weight across the chair.
With the Zero Gravity chair, all the positions (from upright to full recline), are safely secured by a locked mechanism. This way, you can effortlessly find your preferred position and relax ultimately.
Try it for 30 minutes for P300!
Hyperbaric Oxygen Therapy (HBOT)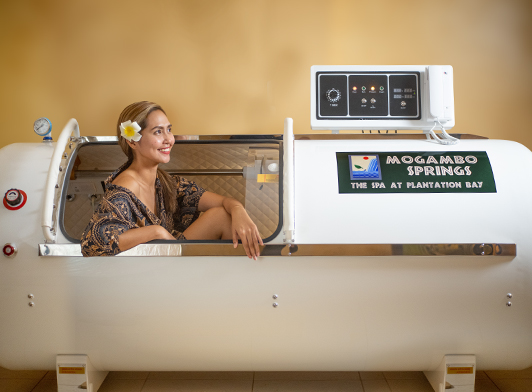 Hyperbaric Oxygen Therapy (HBOT) is a non-invasive, painless treatment that supports the body's natural healing capabilities. It does this by delivering high concentrations of oxygen to the bloodstream to help heal persistent wounds, injuries and infections.
Normal atmospheric air is about 21% Oxygen; at sea level, the air pressure is called "1 Atmosphere". During HBOT therapy, you breathe 100% Oxygen in a specially designed chamber pressurized to 1.4 atmospheres. However, to use an HBOT, you must be able to "equalize ear pressure". Scuba divers already know how to do this. If needed, our staff will help train you to do this to avoid ear pain as the chamber pressurizes.
High concentrations of Oxygen enhance the body's healing power to repair itself, and can help rejuvenate cells and tissues. HBOT promotes wound healing and other health benefits by increasing blood flow, decreasing inflammation and swelling, and stimulating the growth of new blood vessels.
Some other possible benefits:
Retards the ageing of human cells
Helps relieves headaches and migraines
Alleviates tiredness
Boosts the immune system
Helps in cases of depression
Improves physical performance by up to 25%
Improves focus
Encourages better digestion
Most people see the best results after completing a treatment plan of one session a day ( 1hr ), five days a week.
Book your sessions and enjoy the benefits of pure Oxygen! PLUS free use of spa facilities every visit.
Introductory price offer: 10 + 2 for P 10, 000 OR 5 + 1 for P 5,000 .
Special Cancellation Options: if in the course of your first treatment you are unable to equalize ear pressure (this will be evident after 5 minutes), the treatment will be terminated and your payment will be refunded in full. If after your first one-hour treatment you decide it's not for you, you can cancel the rest of the treatments, paying only PhP 1000 for the first one.