Book here for guaranteed best rates plus special offers!
Discover a resort in a class of its own. Set in 11 hectares of secluded grounds, Plantation Bay offers one of the largest privately-owned waterways in the world, with the clean elegance of colonial-plantation architecture. Soothe away your daily cares and pressures in the healing tranquility of an environment that truly feels "away from it all." If you have ever spent time at a tropical plantation, you know what we mean. If not, come and discover a refreshingly different Flavor of Life. Whether you're traveling for a family vacation or romantic getaway, for business or pleasure, this is far and away your best choice in the Philippines.
The Luxury of Space. At many so-called top resorts around the world, you are in fierce competition with other guests for limited space around the pool. And even if you queue up prior to pool opening-time, you might still wind up in the fourth row, with an allotment of two chaises-longues for your family of four.
Re-laaaax. Plantation Bay offers you more facilities, more space, and more separate lounging areas, than almost any other resort in the world.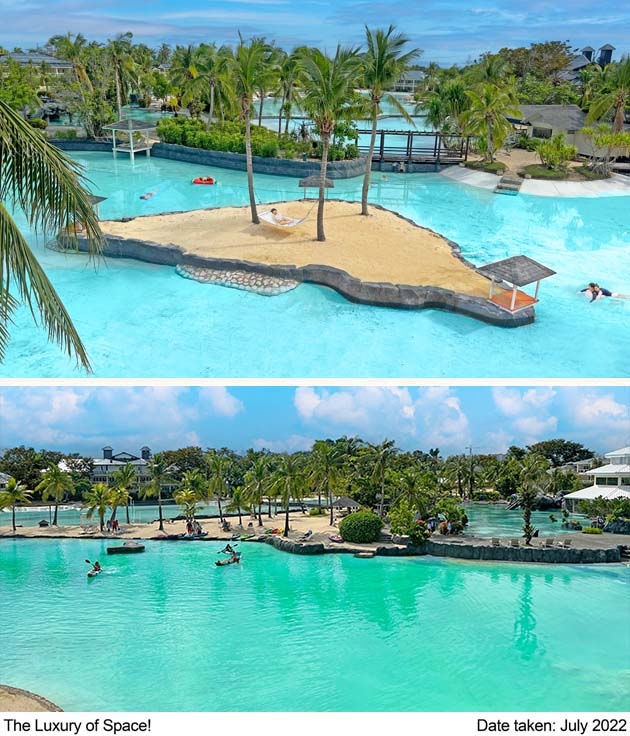 The #1 choice of discriminating travelers. Year after year. In most of its 25+ years of operation, Plantation Bay has enjoyed the highest occupancy of all international-class resorts in the Philippines – yes, better than ALL of them. This is without the benefit of a chain affiliation, and with almost zero expenditure on advertising and promotion. Why?
Plan A for Assuring Guest Satisfaction: Deliver a Superior Resort Experience. How much are your loved ones worth? Would you pay US$ 800 a night for the holiday of a lifetime? If you were going to the Seychelles or the Caribbean in high season, or to an "exclusive" destination in Asia, you might pay this much, or even more. Don't allow yourself to get fooled into throwing away money. At Plantation Bay, our guests enjoy all of the following features and inclusions, for a much lower price than you'd expect.
Within our price range in the country, we have the nicest rooms:  bright, spacious, beautifully-furnished (many with mahogany 4-poster full-canopy king beds), many with panoramic views, almost all equipped with deep, shady verandas that will make you feel like a hacendero (plantation owner). The best bathrooms: separate shower, custom-made steeping tub, ample counter space, lovely stone and marble finishes. The most charming architecture: low-rise colonial plantation style, and (unlike most resorts, where you have to walk 10 minutes to get from your room to the pool) every room is only a short distance from lagoons, pools, sandy areas, trees, seafront, and myriad leisure facilities.
Speaking of facilities, we have the most extensive facilities in the country (regardless of price range).  At most resorts your visit is bipolar: room-pool, room-pool; and at the pool, hundreds of guests are lined up like sardines and the big thrill is to have an attendant come up and spray your face with Evian. At Plantation Bay, there are so many things to do, and so many corners to explore, that it never feels crowded, and some families spend a week but still feel they want more. One Swiss family with two young boys liked it so much they stayed two months!
Transparency. As you will see from this website, we go to great lengths to explain in advance what our rooms are like, what kind of view to expect, and what our food and services cost. Read carefully, and you will have no surprises when you arrive.
Safety. No child has ever come to serious harm inside Plantation Bay, or suffered much worse than cuts and bruises. Not a single one of our principal competitors in Mactan can claim this. In addition, our layout immediately reassures parents that their older, responsible children can be allowed to wander around by themselves (just like in olden days). This leaves the adults free to relax and to enjoy alone-time with each other (wink, wink), without having to consign the kids to a sterile children's center.
Outstanding food. In the matter of food, most hotels put all their effort into presentation, and none into taste. Our chefs are, to put it kindly, presentation-challenged. If you are mainly impressed by sheer quantity of food, or by cute garnish, go to one of our competitors. If your mouth has been around the block a few times, come to us. From fried bananas to fritto misto, from suckling pig to shrimp tempura, we do it right. Not always pretty, but right.  Click here to see some of the dishes we're most proud of, and why.
We have the friendliest and most helpful staff, and a strict No-Tipping Policy so you can relax and enjoy yourself, without having to constantly worry about whom, when, or how much to tip. Come, and find out for yourself.
Plan B for Assuring Guest Satisfaction: Be Honest. But now, some candid talk. There are some kinds of traveler who will NOT be happy at Plantation Bay. Before you go any further, let's get Plantation Bay's NEGATIVES out of the way. Click here for a frank discussion.
Plan C for Assuring Guest Satisfaction: The Plantation Bay Room and Restaurant Satisfaction Guarantee. Do you consider yourself a smart shopper? How can you tell if a hotel is really as good as it claims on its website? That its room price is fair? Or if its rapturous reviews are by real customers, not by paid consumer-review sweat shops? How often have you booked at a hotel, and upon arrival immediately found the hotel was nothing like the claims, but you and your loved ones were now stuck in an inferior, overpriced hotel, for all the days you reserved? Wouldn't it be great if a hotel would let you change your mind or just check out early without trying to take advantage of you? Is there any hotel in the entire world honest enough, and confident enough, to let you off the hook, absolutely without penalty?
Yes, there is. And as far as we know, just one. In the entire world. We want all our guests to be satisfied with their choice to come here, and almost everyone is, so we can afford to be liberal with the very few who aren't. Plantation Bay is the only hotel in the world with a "Just Don't Like It" money-back guarantee on rooms. Click here for details.
And, regardless of the purpose of your visit, the one element that sets Plantation Bay apart from all the others is the absolutely authentic "feel" it recreates – like distilled Essence of Plantation Living, suffused with a sense of serenity and timelessness that you will remember and want to come back to.