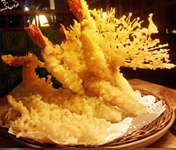 Prawns Tempura at Fiji – Tiger prawns almost as big as chicken drumsticks, coated in rice-flour batter and deep-fried. Certainly the best in the country, our tempura would hold its own in Tokyo, or anywhere.
La Paz Batchoy at Kilimanjaro – If it's absolutely authentic native cuisine you're after, look no further. We borrowed the recipe for this quintessential Philippine onion-and-noodle soup from our very own staff cafeteria after it was discovered that some enterprising (and obviously discriminating) guests were eating there on the sly.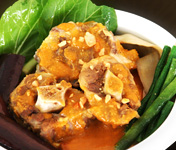 The World's Best Kare-Kare at Kilimanjaro – Philippine oxtail stew with banana flowers in peanut sauce, served with shrimp paste on the side. There's nothing quite like this dish anywhere else in the world, and ours is about as good as it gets. Messy and fun: eat with a spoon, and leave the Hermes ties and scarves at home.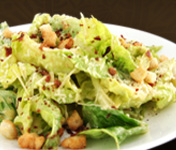 Caesar Salad at Kilimanjaro – Nothing like American Caesar Salad, the Philippine version (some would say, original) is thick, creamy, garlicky, lemony, and piquant. This dressing doesn't keep at all, and so must be prepared from scratch each time it is ordered. When our waiters are having a good day, our Caesar outshines the best from Manila; on a bad day, it's still better than anything east of the Pacific.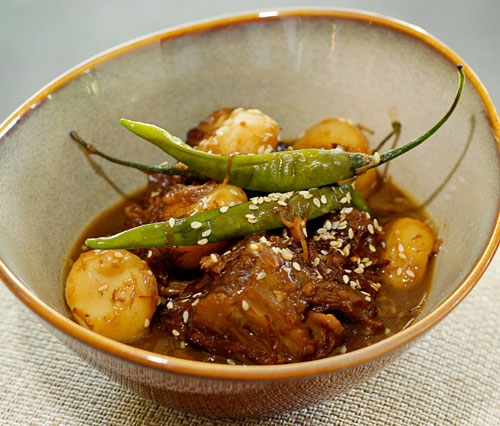 Sake-Infused Oxtail at Fiji – An original Plantation Bay recipe.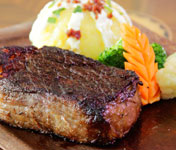 Kagoshima Wagyu Sirloin at Palermo – From Japan, with the characteristic "super-marbling". A rich and fatty steak with the strong meaty flavor of sirloin, so soft and smooth that it's like biting through pudding.
Spaghetti Pepperoncino at Kilimanjaro – This classic spaghetti dish also known as 'Spaghetti al Aglio, Olio e Pepperoncino', is made only of simple ingredients, fresh sliced garlic sautéed in fine olive oil though not browned, chopped mild green chilis, and crushed black pepper. It is usually finished with shaved Pecorino cheese. We put more ingredients into our dish than Italians normally do, giving it a stronger, "in your face" flavor, that you absolutely won't find a match to in Italy. So, it's not "authentic", but it's better.
Black Lechon at Themed Dinner Buffet – Roast suckling pig, cooked on the premises using our own special recipe and cooking process. Cebu roast pig is widely-regarded by Filipinos as the best in the country, and Plantation Bay's is about as good as Cebu gets.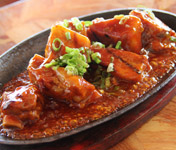 Barbecued Polynesian Spareribs at Fiji – What is this obsession with baby-back ribs, we ask. Baby-back just means the pig was small and skinny. Our ribs come from meatier and – yes, we admit it – fatter pigs, and our special Polynesian barbecue sauce would make even Kansas City gourmands sit up and take notice.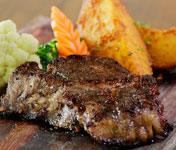 USDA Prime Rib-Eye at Kilimanjaro – US cornbelt restaurants undeniably have better meat to work with, but we try harder. Our proprietary marinade combines Midwestern and other ingredients, and we wait two days for the flavors to ripen. The results are sublime – tastier, smokier, juicier than anything out of Chicago. Don't believe us? Try it, and decide for yourself.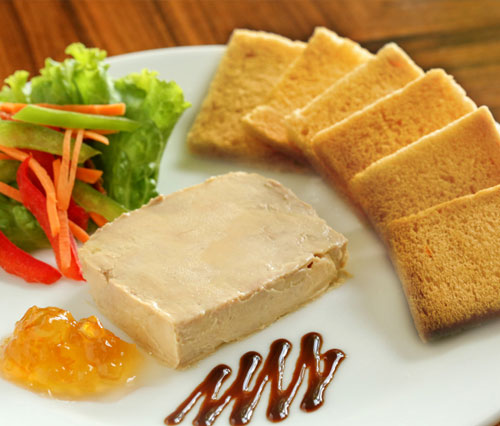 Pâté De Foie Gras at Palermo – Made from duck liver imported from France. Since it is only for in-house consumption, we use no extenders or stabilizers, creating a more intense taste than any "bloc de foie gras de canard" sold commercially in France.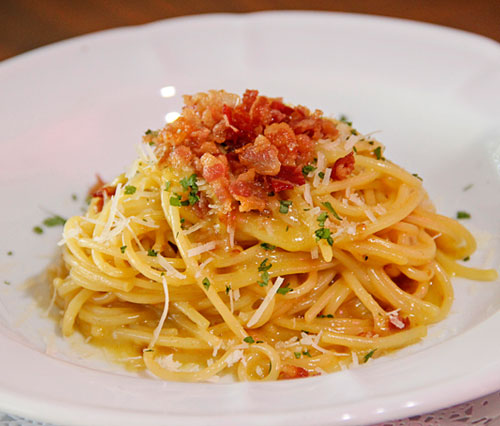 Spaghetti Carbonara at Kilimanjaro – Almost exactly like the best in Rome, but richer.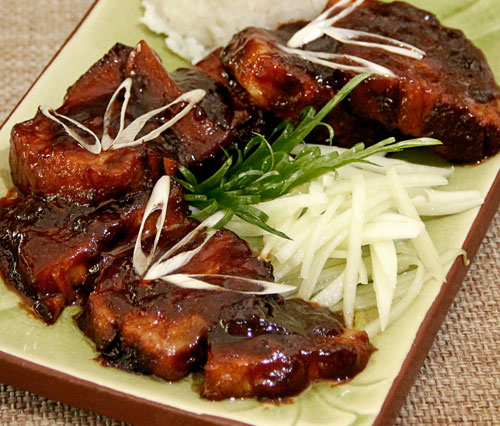 Cantonese Pork Char Sui at Kilimanjaro – Pork with hoisin sauce. The Cantonese make it dry; we make it moist.